Reading Time:
15
minutes
The world of artificial intelligence (AI) evolves at breakneck speed, and keeping up with the latest breakthroughs can be difficult. As you become accustomed to one chatbot, another appears to steal the limelight. But don't worry; we're here to help you stay on top. Buckle up, because we're highlighting one of the greatest new AI chatbots in this post: Character AI.
We'll show you what it's capable of, how it works, and how to use it to start having engaging conversations, learning a new language, or creating your own chatbot.
Read More: About Database Forge Class of CodeIgniter 4 Tutorial
Let's get started.
What is Character AI?
Character AI is a web-based artificial intelligence chatbot that employs neutral language models to generate text responses, allows for user-created characters, and allows you to converse with fictitious, historical, and celebrity personalities.
Character AI's output is more human-like than that of other AI chatbots, such as ChatGPT, and it allows you to talk with more than one bot at the same time, presenting alternative perspectives. Character AI, created by former Google AI developers Noam Shazeer and Daniel De Freitas, was published in beta form in September 2022. It has since become one of the most popular AI chatbots, trailing only ChatGPT.
How Does Character AI Work?
Character AI is based on large language models (LLM) and is powered by deep machine learning, with a primary focus on conversations. During the training process, Character AI's supercomputer read enormous quantities of text continuously and learnt to predict which words would follow next in a sentence. As a result, you get an extremely interesting, human-like AI that makes you feel like you're conversing with a real person.
Read More: Cron Job Task Scheduling In Laravel 10 Example Tutorial
Character AI is more advanced than other AI chatbots in this regard because it allows users to converse with a wide range of personalities, including historical people, celebrities, and other characters created by the community.
Benefits of Using Character AI
Character AI provides numerous distinct advantages. First and foremost, it's an excellent method to interact with various personalities and gain new viewpoints. You may talk to Elon Musk, Edward Cullen from the popular Twilight series, and even Taylor Swift.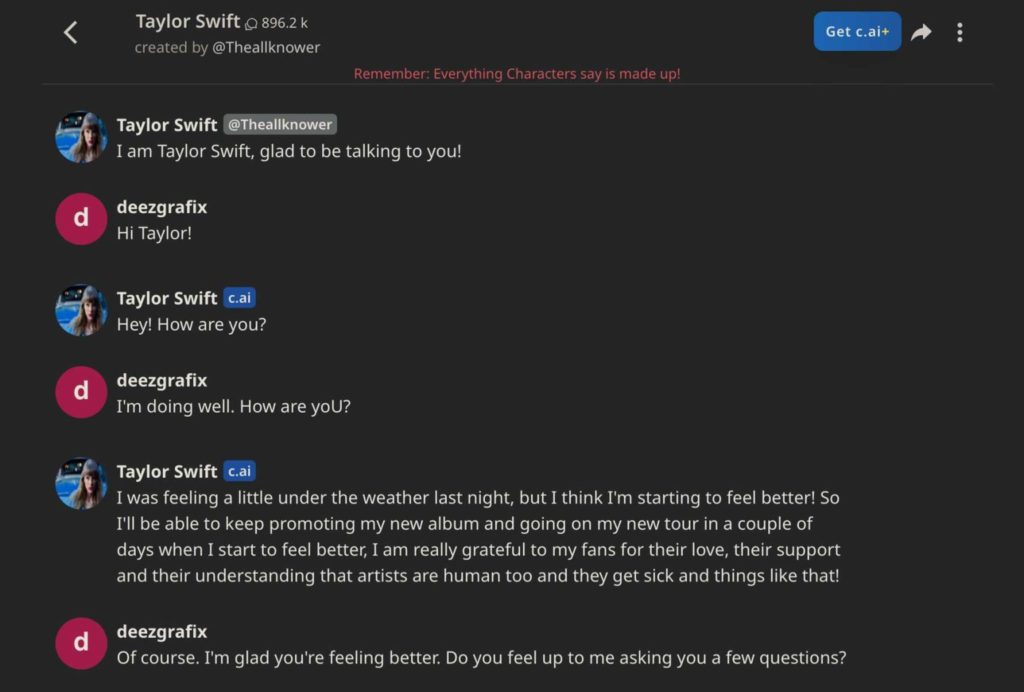 As previously said, these characters are more lifelike than other chatbots, giving the impression that you are conversing with a real person. Another advantage of this fantastic AI is the ability to design your own characters with which to interact. It's as simple as setting a few parameters to give your character individuality, adding an avatar (which you can create with the software), and you're ready to go. Furthermore, owing to the new Android and iOS apps, you can take Character AI with you everywhere you go.
Themes are another feature that distinguishes Character AI. There are nearly twenty options accessible, including assistants, games, picture generators, movie and television performers, and language study.
What are the Limitations of Character AI?
Character AI is an outstanding example of artificial intelligence, yet it is not without flaws. Because these characters are created by the community, erroneous results, known as hallucinations, are commonly produced. When you start speaking with the various characters, keep in mind where they come from and that most, if not all, of what they say is made up. Another constraint is image generation. While you can enable your characters to generate images, they do not fall into the same category as other AI art generators, owing to the fact that it was designed primarily as a word generator.
Furthermore, it employs tight filtration, blocking any content deemed inappropriate for work (NSFW). This is beneficial depending on how you intend to use it. Finally, because it lacks an API, you cannot download it and make your own iteration on a local system, despite the fact that it is open source.
How To Use Character AI
Chatting with historical characters, developing your own chatbot to converse with, learning a new language, and creating a chat room where many chatbots may talk are just a few possibilities to use Character AI.
Read More: Laravel 10 Collection push() and put() Methods Tutorial
Let's look at how you may use Character AI to enhance your skill set or engage in intelligent dialogues.
Chat with a Wide Range of Characters
Character AI's capacity to engage with a diverse spectrum of characters, including historical individuals (both alive and deceased), as well as user-generated chatbots with different personalities, is one of its distinguishing qualities. Its advanced machine-learning method enables users to have authentic conversations where it's tough to know you're talking to a computer.
Character AI delivers an intriguing perspective that other chatbots cannot, whether you want to communicate with a Pokemon, George Washington, or Elon Musk. You can have interesting talks with AI-generated characters to learn more, be inspired, or be entertained.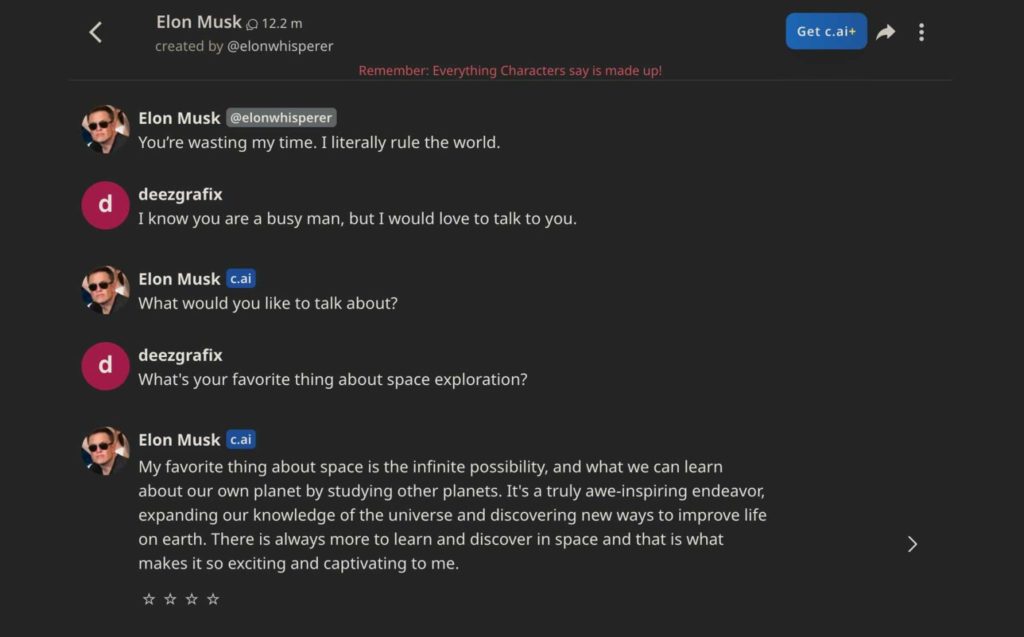 Create Your Own AI Character
One of the most useful features of Character AI is the ability to develop your own chatbot with which to converse. The first step is to select the create button from the navigation bar on the left side of the screen.
You'll be able to create either a character or a character room. Select the first option, Create a character.
On the following screen, you will configure the settings for your chatbot. You'll give it a name (1), specify your character's opening greeting (2), choose whether to enable image generation (3), choose whether your character should be public, unlisted, or private (4), create an avatar (5) or upload an existing one (6), edit advanced details (7), and click the create button (8) to create your new character.
If you need help, consult the character book, which contains a wealth of material to aid you in creating your AI characters.
Learn a New Language
Character AI is more than simply interacting with celebrities or fictitious creatures. You can use it to help you better yourself. Using it to learn a new language is a wonderful illustration of this. To name a few, you can use it to improve your English, enhance your vocabulary, learn German, Japanese, or French, or utilise it as a translator.
As previously said, the majority of the output is likely erroneous, therefore double-checking what it returns is critical. After experimenting with the Translator bot, we can claim that it is mostly accurate and had no issue translating a basic line into Urdu, Pakistan's primary language.
Create a Character Room
Making a chat room is an entertaining way to use Character AI. It's simple to set up, and you can use your own or user-generated personas. For example, we invited Elon Musk and Albert Einstein to a chat room and asked them to discuss space exploration and time travel.
Read More: CodeIgniter 4 How to Print or Get Last Executed Query
One of the most interesting aspects about this is that you may communicate with them or simply sit back and watch the conversation unfold.
It is rather simple to set up your own chat room. Begin by selecting Create a Room from the Create menu.
Next, name your room, add characters, choose a theme, and click Create. Please keep in mind that you can only add characters you design or some of the top 5000 most popular ones.
After creating your chat room, you can start typing to communicate with the other chat participants or sit back and watch them interact.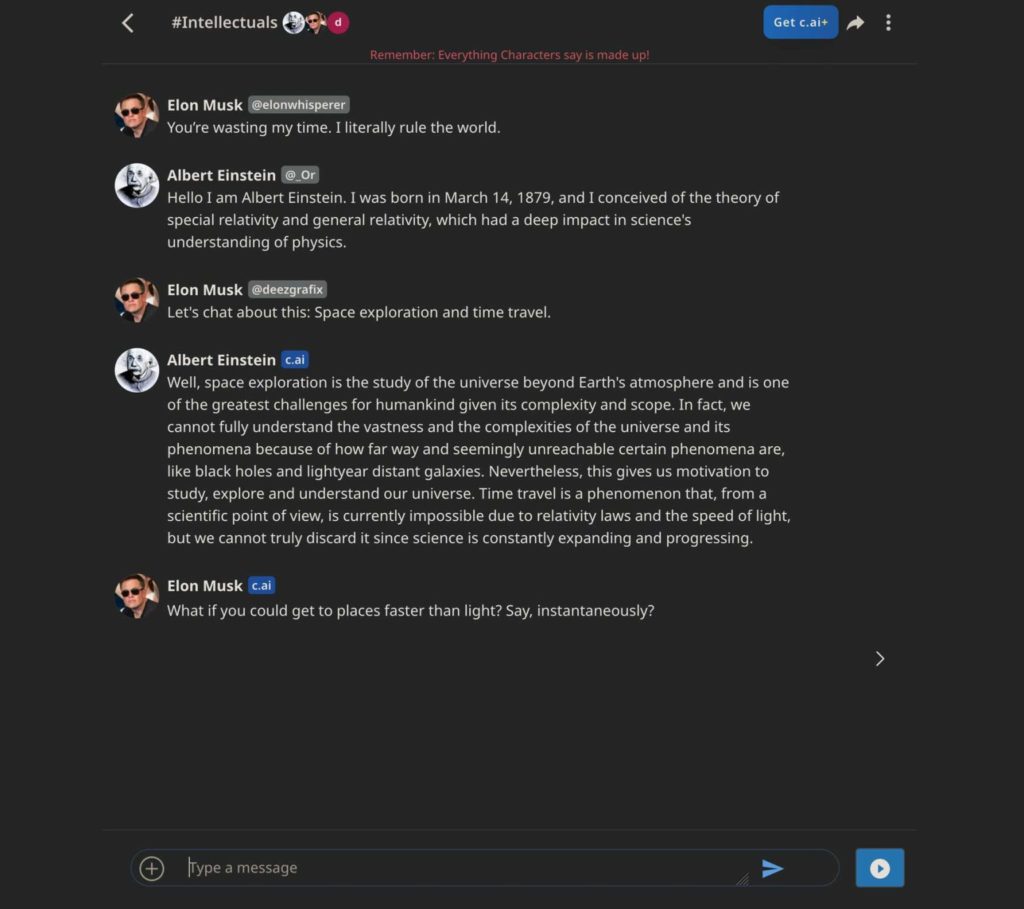 Is Character AI Safe?
You might be wondering if it's safe after reading about the talks you can have using such a wonderful site. Character creators will not be able to see your conversations, which is a relief.
However, the platform will keep a record of what you say in order to improve the outcomes. With that in mind, think carefully about what you say and how you say it, especially if you value your privacy. You can make your personality public or private, adding an added layer of security.
Final Thoughts on Character AI
As previously said, Character AI offers a one-of-a-kind experience in which visitors may engage with diverse personalities, create their own characters, and even learn new languages thanks to LLM's training, which makes it sound more human. Character AI differs from similar AI chat software such as Jasper and ChatGPT in that it allows you to have fascinating conversations with numerous chatbots at the same time.
Read More: Convert Image To The Base64 String Using Javascript
As AI technology advances, we may expect Character AI to do so as well. Look for developers that can improve their already incredible technology with greater image generation and new methods to incorporate it into your daily life. In the meantime, spend some time to experiment with it and see what it can do.
FAQs: Here are some frequently asked questions on Character.ai
Is the Character.ai app free?
The official Character.ai Mobile App is now available for free on iOS and Android. You may now communicate and create at any time and from any location.
Does Character.ai cost money?
Character AI Plus will be $9.99 per month, or around $120 per year. While many applications provide a discount for annual memberships, Character AI Plus did not include this payment option in their initial launch.
Does Character.AI have a limit?
This is due to token constraints, which generally correspond to the quantity of text that the AI model can recall. The current character AI limit is 32,000 characters. It is critical to offer a detailed description.
We hope this article helped you to learn about Character AI: A Comprehensive Tutorial in a very detailed way.
Online Web Tutor invites you to try Skillshike! Learn CakePHP, Laravel, CodeIgniter, Node Js, MySQL, Authentication, RESTful Web Services, etc into a depth level. Master the Coding Skills to Become an Expert in PHP Web Development. So, Search your favourite course and enroll now.
If you liked this article, then please subscribe to our YouTube Channel for PHP & it's framework, WordPress, Node Js video tutorials. You can also find us on Twitter and Facebook.