Reading Time:
6
minutes
Inside this article we will see the steps to install woocommerce store in wordpress. This will be step by step guide to work in it. This will be very interesting to see the installation steps.
WooCommerce is an open-source e-commerce plugin for WordPress. It is designed for small to large-sized online merchants using WordPress.
If you are looking for an article which will give you a concept to install woocommerce into your wordpress website, you are at the right place to learn. This article contains classified information about this.
Assuming you have your wordpress setup installed. Click here to learn WordPress Installation step by step.
Learn More –
Let's get started.
---
WooCommerce – Plugin Installation
Open your wordpress setup. Click on Plugins > Add New.
Type woocommerce into plugin search box
Once installed, click on Activate button.
---
WooCommerce – Basic Setup Guide
Once woocommerce plugin activated, it will take you at their setup steps. You can go with those steps to do your basic configuration else skip from it.
Step #1
Provide store details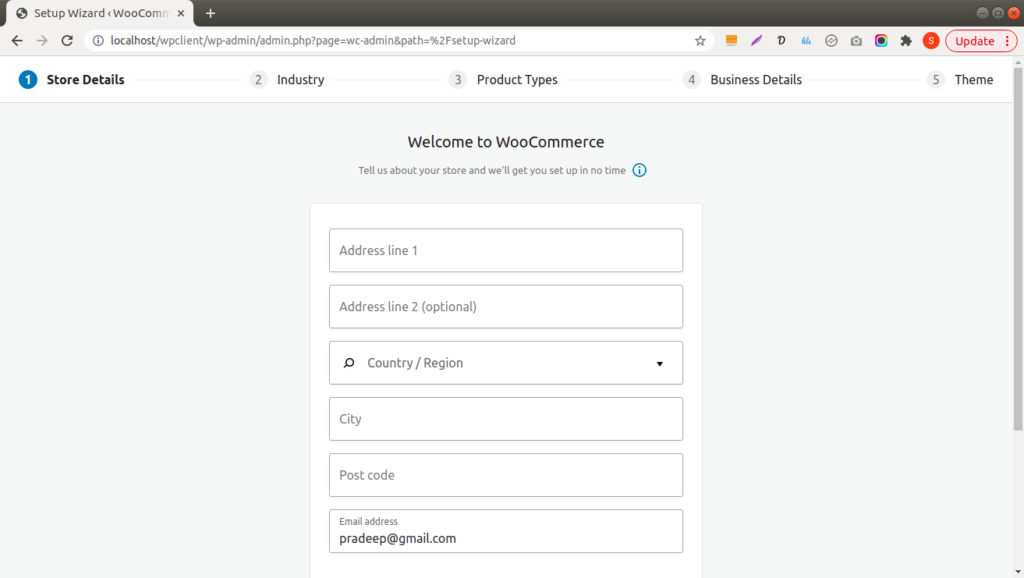 Step #2
Provide industry details and choose industry type
Step #3
Select product type for your woocommerce store.
Step #4
Provide business details for store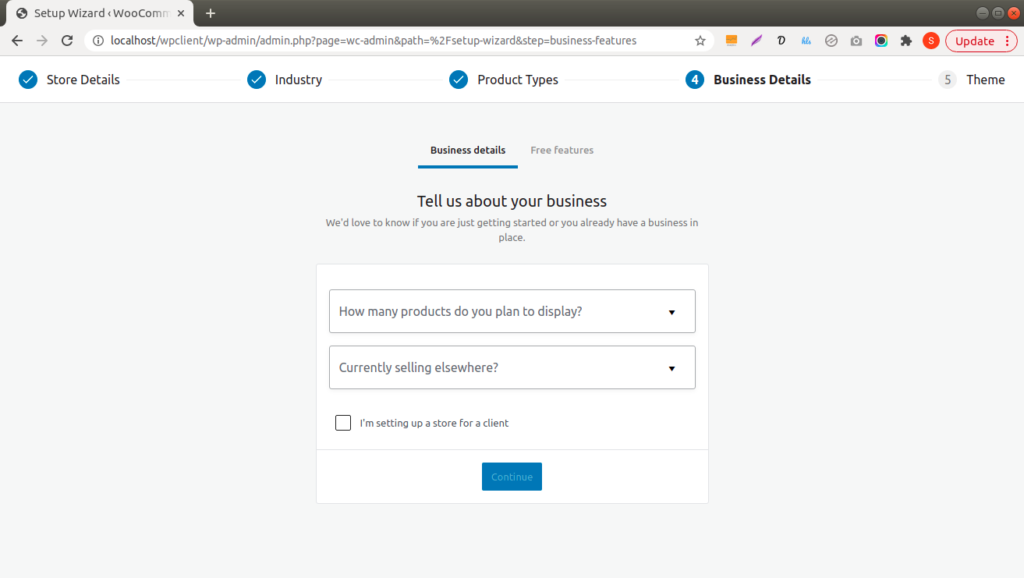 Step #5
Select woocommerce theme and setup you store.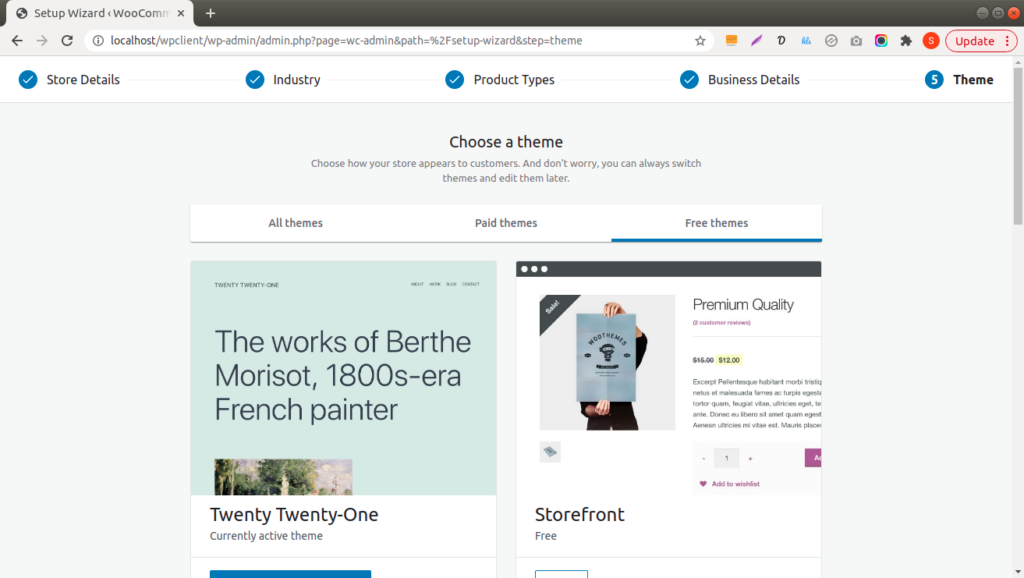 Now, we have configured all basic information to woocommerce store. Let's move to settings to admin dashboard of woocommerce.
---
WooCommerce – Admin Settings
Once woocommerce installed and activated. It will add a woocommerce menus to admin dashboard.
There are several settings like test product installation, payment settings, tax inputs, etc.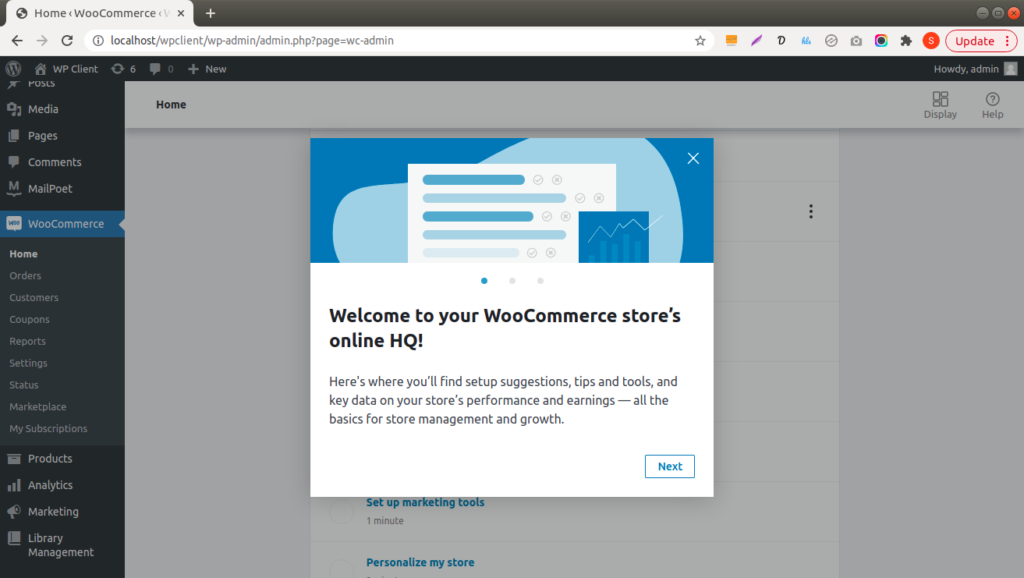 Step by step admin configuration here are list of todos we need to do.
---
WooCommerce – Sample Product Installation
For sample product installation you need to click on Add my products from todo list.
Wocommerce plugin contains a folder which stores CSV file.
Path: /wp-content/plugins/woocommerce/sample-data
Sample Product CSV – sample_products.csv
Select this file and import into your woocommerce store.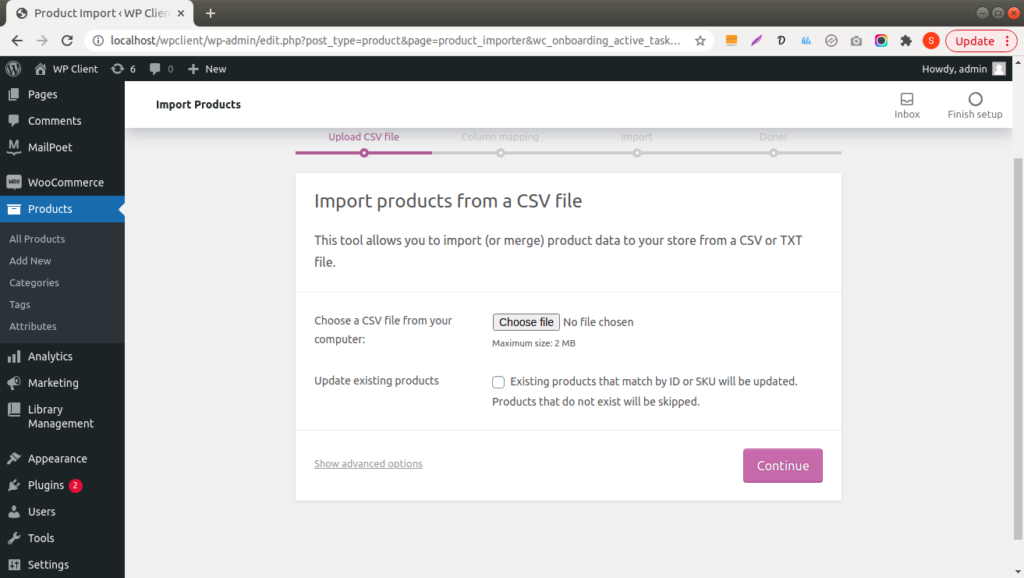 You need to click on couple of buttons inside this import functions.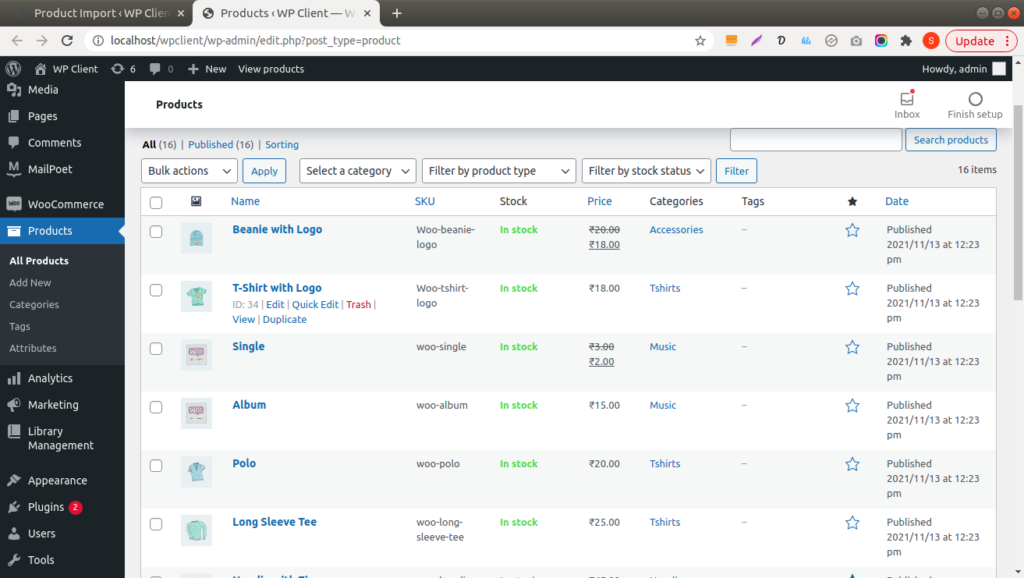 These sample products after installation you will see into shop page of woocommerce store.
WooCommerce Payment Settings
To set payment gateways for your woocommerce store, you have many options available. You can use Woocommerce specific plugins for payment gateways like Paytm, Payumoney, Paypal, Stripe, etc.
---
WooCommerce Pages
Woocommerce generates few pages into wordpress setup like Cart, shop, My Account, etc.
You will find all generated pages inside your Pages menu.
WooCommerce Page URLs –
Cart – <Site URL>/cart
Checkout – Cart – <Site URL>/checkout
My account – Cart – <Site URL>/my-account
Shop – Cart – <Site URL>/shop
Shop Page
Here, you will find your store products.
Single product page
Cart Page
When you add products to buy in your cart this page will show you all products.
Checkout Page
You need to pass billing details, shipping address etc and proceed to payment.
We hope this article helped you to learn How to Install WooCommerce Store in WordPress Tutorial in a very detailed way.
Online Web Tutor invites you to try Skillshare free for 1 month! Learn CakePHP 4, Laravel APIs Development, CodeIgniter 4, Node Js, etc into a depth level. Master the Coding Skills to Become an Expert in Web Development. So, Search your favourite course and enroll now. Click here to join.
If you liked this article, then please subscribe to our YouTube Channel for PHP & it's framework, WordPress, Node Js video tutorials. You can also find us on Twitter and Facebook.
Was this post helpful?
Let us know if you liked the post. Please share your feedback.